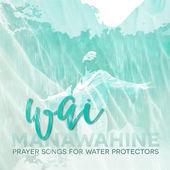 Manawahine Wai - iTunes
Various Artists
曲目リスト
1. Aloha E Pūnāwai - Lei'ohu Ryder
2. Tangaroa Whakamautai - Lehua Simon
3. Where Now She Lives (Flow Rivers) - Eva Johanos
4. Healing Waters - Melinda Caroll
5. Water of Life (Wai Ola) - Bentley Kalaway
6. I Waikapu Ke Aloha - Mikaela Bega
7. Love's Waters - Eva Johanos
このアルバムの曲は、世界中の水のための祈りとしてマウイ島に住んでいる女性によって記録されました。
May the Spirit of Water guide our way in these times of change. Prayer Songs for Water Protectors, from women on the island of Maui, with Aloha.
ジャンル: ワールド, ミュージック
リリース: 2017年5月14日
℗ 2017 Melindacarollmusic Productions
Each one of us arrives on these earthly shores through the water portal of our birth.The music and songs on this album are dedicated to those who are the Protectors of Water, our forest kin, our Mother Earth and all living creatures. We choose to join with the Indigenous voices and stand with them remembering and honoring the sacred; Water is Life.

The songs of this album were recorded by women living on the island of Maui as a prayer for the waters around the world.
May the Spirit of Water guide our way in these times of change.