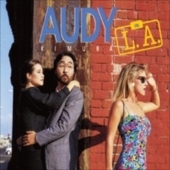 Audy in L.A. - cdbaby
Listen(試聴)
Audy Kimura
曲目リスト
1. You Are the Love
2. Mr. Cool
3. The Things We Never Knew
4. Only My Heart Can Say
5. I Do Love You
6. What Love Can Do
7. Love In The Moonlight
8. The Best In Me
9. Who's That Girl
10. More Than You'll Ever Know
11. Reach Out!

Adult Contemporary, Hawaii Academy Of Recoding Arts award winning recording and original compositions by a Hawaii based artist (not Hawaiian music). Some of these songs were selected for use as national TV commercials in Japan.

Genre: Pop: Pop/Rock
Release Date: 2013


Copyright - Audy Kimura / Audy Kimura
Album Notes
This music is inspired by events in people's lives, life lessons, good times, heartbreaks and emotion. It also uses some of the best musicians in Los Angeles recording in the legendary Ocean Way studios. "The Things We Never Knew" was inspired by a friend telling about his regrets after a divorce and what he would have done differently in his marriage.

If you have ever loved, lost, observed people and lived life you will understand the meaning behind the songs and hopefully enjoy them.
【Audy Kimuraの最新記事】