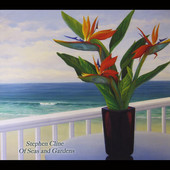 Of Seas and Gardens - Amazon.co.jp MP3 試聴
Stephen Cline
曲目リスト
1. El Cardon Sunrise
2. Windy Shore
3. Madame Monet's Kitchen
4. Gentle Sea
5. Lehua Waltz
6. Wedding Flower
7. Island Minstrels
8. First Lap (Hele Mua)
9. Emerald Cave
10. Kona Coffee Train
11. Waters of Ho'okena
Beautiful and evocative melodies using single and multiple instruments in original instrumental compositions for finger style acoustic guitar and lap steel by the guitarist from the group Tiger Rising.

ジャンル: オルタナティブ・フォーク, ミュージック, シンガーソングライター, New Age
リリース: 2014年1月1日
℗ 2014 Stephen Cline
Album Notes
Stephen Cline has been writing and recording music for many years. This is a collection of his best and most lovely instrumental compositions for guitar and lap steel.
Fans have said: "gorgeous," "romantic...crazy good," "the slack key guitar with lap steel sounds amazing," "we have been listening, savoring and basking our ears in your work.... Bravo...a refined piece of art," "my favorite new CD for 2014."
Stephen has also written and performed with the group Tiger Rising featuring guitar and cello. See their CDs on CDBaby too!