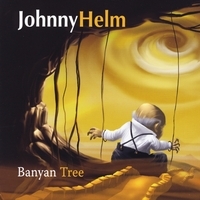 Banyan Tree - Amazon.com
Banyan Tree - Amazon.co.jp
Banyan Tree - cdbaby
Listen(試聴)
Johnny Helm
曲目リスト
1. Banyan Tree
2. You Better Give In
3. Fine
4. Light
5. I Was Ready
6. Unselfishly True
7. Willie
Johnny Helm's "sound" is acoustic "Folky" rock that is melodic and introspective.
★36th Annual Nā Hōkū HANOHANO AWARD Finalist
EP, EXTENDED PLAY Release of the Year
Genre: Folk: Folk-Rock
Release Date: 2012
c Copyright - Johnny Helm / John Helm Music
Album Notes

Here is some information on John's background. Enjoy the reading you little beans.
1973

The U.S. Supreme Court issued Roe v. Wade ruling to legalize abortion. "The Sting" won the Oscar for Best Picture. Pablo Picasso, Bruce Lee and J.R.R. Tolkien died.


And John Helm was born. March 4 in Hartford, CT., to be exact.


His parents and grandparents were all talented musically. His dad was a square dance caller; his grandfather played any instrument he could get his hands on. The women sang and played piano.


Blame John's grandfather for what has become a passion (and hopefully career) in music for John. Papa, as John called him, gave him his first ukulele and harmonica. His career could've taken off from there if only he knew what to do with them.


At Morley Elementary School in West Hartford, CT., John played the snare drum in the school band. He continued in percussion at King Philip Junior High School, where he first heard guitar legends Jerry Garcia and Van Morrison. That changed everything. John ditched the drums and picked up guitar, beginning to sing and write his own songs. At Hall High School, he played In talent shows and sometimes on the streets of Hartford, his first tastes of live performing. While attending the University of Rhode Island, John played in a band called Cat on a Tin Roof, gigging at various clubs in Kingston and Narragansett. The band, with John on lead guitar and vocals, specialized in Grateful Dead covers. After graduating in 1995 with a degree in Wildlife Biology, John started writing songs and playing at open-mic events in The Berkshires, the hills of southwest Massachusetts.


In March 1996 John went to New York City to record some demo tracks; the three-song demo was distributed to some record labels. None responded.


John left Rhode Island for another island –Hawaii−in 1996. He met local radio legend, Wili Moku, who brought him into the studio to record a second session. John recorded two songs, Home and Lady of the Night. John gave up his chemist job to get into radio, interning at Moku's KQMQ 93.1 FM. He soon realized an interest in what goes on behind the scenes. He met producer and engineer, Darah York, who he shadowed for several months before landing a job as producer for Caribou Broadcasting. He stayed at the studio after hours, determined to learn everything about recording. He began to produce what would be his first full-length demo recording, self-titled with nine songs, while working days at various coffee shops on Oahu. <

A career in radio was inevitable. John was hired to host KKHN 102.7 FM Double K Country's morning show. That led to the morning DJ job at KPOI 97.5 FM. After work he continued to play at local clubs and bars in Honolulu, picking up a regular gig at Shipley's in Manoa with pianist Patrick Sweeney, who later became his roommate.


John was introduced to local musician, producer, engineer, Rockwell Fukino in March 2001. He brought John into the studio to record his second full-length recording entitled "At Random."


At Random was nominated for Rock album of the year in the 2003 Na Hoku Hanohano Awards

Helm supported At Random with with many shows from the club sceene of Honolulu to theatre performances such as "Marks Garage"(it really is a theatre), Contemporary Museum(Honolulu), Bishop Museum and of coarse Coffee Talk Helm's favorite watering hole.


Helm moved to the Big Apple in the summer of 2004 and continued working in coffee shops. He did gigs with Bud Cerio at New York City's famed "Bitterend" as well as some small venues in Norwalk CT. In the winter of 2004/2005 Helm moved to Greenwich CT where he recorded tracks for his third album "Divide" at the old Sweeney Mansion.( Pick up "A Patchwork Clan" if you want to read about the musical Sweeney household with 18 children!) There are 10 tracks on Divide. It is a collection of recordings from 1996-2006. Helm produced, engineered, mixed and mastered almost the entire cd himself. Additional producing on the project by Grammy award winner John Cruz and international recording and live musician Jeffry Kloetzel. It is currently in Stores and available on this site!

In 2009Johnny began work with Jed Leiber on a new project at
Night Bird Studios. Jed Leiber is a piano player, songwriter, producer, composer and owner of the world class Nightbird Recording Studios in the Sunset Marquis Hotel. He has worked with artists that range from Jeff Beck to Aretha Franklin. He has won a British Academy Award (BAFTA) and has been nominated for two grammys. He is the son of Legendary songwriter Jerry Leiber.

They were introduced to each other by drummer, guitarist, singer songwriter and producer John Michel.

While taking their time with the Leiber-Helm recordings Johnny Began tracking for another solo project. He recorded it and release it in late 2012. The EP is titled Banyan Tree and has been Nominated fro the Hawaiian Na Hoku Hano Hano award for "EP of the year'.
【Johnny Helmの最新記事】