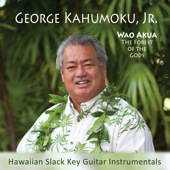 Wao Akua - The Forest of the Gods - Amazon.com
George Kahumoku, Jr.
曲目リスト
1.36 Mile Marker
2.Pauoa Liko Ka Lehua
3.Pupu A`o Ewa
4.Nanea Ko Maka Le'ale'a
5.Kahakuloa
6.No Ke Ano Ahiahi
7.Ka Lae 'O Ka'ena
8.Aia Ia 'O Pele
9.Pauahi 'O Kalani
10.Maluhia Ame Lokahi
11.Ka'inapu Lio Li'i Li'i
12.Moanike'ala
13.Ha'uha'u E
14.Na Ali'i
15.Makalapua
16.Waikamoi
17.Kukae Nene
18.Ka Lama 'Ae One
19.Hilo One
20.A Kona Hema 'O Ka Lani
21.Punalau
22.Kapalili Lau Niu
23.Alo Hihia
24.Kaua i ka Huahua'i
George Kahumoku Jr./Wao Akua : The Forest of the Gods -TOWER
This newly released album by George Kahumoku, Jr. is filled with 24 solo slack key guitar instrumental selections of traditional Hawaiian music and also includes several of George's compositions. Also, find songs composed by Queen Lili'uokalani, Leleiohoku, and Samuel Kuahwi. These solo instrumentals are the embodiment of George Kahumoku, Jr.'s life's journey through Hawaiian slack key guitar music. "For a Native Hawaiian, the journey into the Wao Akua is a reflection of one's work as a kanaka, where we rise above the everyday life of working, living and surviving into the extraoridinary spiritual world of the Gods." This CD is meant to instill a sense of peace, harmonay, and lokahi (unity) for the sounds and the silence fround within the Wao Akua, the Forest of the Gods.

Number of Discs: 1
Label: Daniel Ho Creations
ASIN: B005EMQQ16
George Kahumoku, Jr.
関連商品