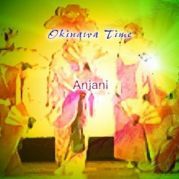 Okinawa Time - amazon..com
Anjani
曲目リスト
The Spirit of Love
Arigato
Another Morning
Nmarijima - The Island
Taste of Paradise
Okinawa Time
Love at Last Morning, Afternoon, Evening
Nani?
Osamu Kitajima's signature sound blends synthesizers with traditional Japanese instruments such as the koto and biwa.
Inspired by the music of Okinawa's renowned Rinken Band, Osamu sought to create a contemporary version of their music. But first, he had to find an artist who could emulate singer Tomoko Teruya's remarkable vocals. After an extensive search he discovered Anjani Thomas, whose Okinawan grandmother always kept the radio tuned to Asian folk music. Once Anjani wrote English lyrics to Osamu's arrangements that captured the spirit of Rinken Band, they were on the way to creating a sonic hybrid of East and West, with elements of jazz, New Age, world and folk music.
Okinawa Time features guest appearances by Rinken & Tomoko Teruya, Hiromitsu Nishikawa (Japan's preeminent traditional percussionist) and world renown concert shakuhachi artist, Masakazu Yoshizawa.
Anjani 関連商品
【Anjani Thomasの最新記事】